<! Under Navigation CONTENT >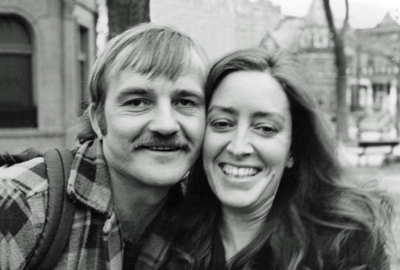 Photography by Dominic Fecteau



People generally didn't know how much he was troubled by poverty, by always making the most idealistic choices. He said once: "I get enough love - I need more respect, and that means getting paid enough." When I controlled the budget when we worked, I paid him as much as I paid myself. It was hard to know when he was suffering from anything - he had to come right out and tell you he had a cold or you'd never notice.

Once he asked me: "What are you here for?" I said - "There are three brothers: loneliness, poverty and war. I can't do much about war, I can do more about poverty, and I can do a whole lot about loneliness".. His reason for being: "There's not enough love in the world". And what he loved and celebrated about each of us, was the very part of us we hated most. His love was irresistible, and we felt irresistible because of it.

So many lives were uplifted by his presence. His tribute spilled out of the 2,000 seat Ryerson theatre into the courtyard filled with dancers and unicyclists and fire-jugglers: people could watch from outside because of the television sets that had been set up there. The original cast of "Hair" (some pregnant) did half an hour with songs and choreography, The Nylons sang for twenty minutes, Ian Wallace and I did clown turns, Fiona Griffiths performed a dance piece with Rene Highway, Dinah Christie sang, I don't remember everyone. What made the evening for me was the suitably outrageous clown turn that John Turner and Mike Kennard did at the casket of a beloved clown friend. I, who could face a thousand-person audience alone and not get stage-fright, was so nervous I got sick every time I tried to rehearse. When Marsha Coffey and I were asked to compose and perform a song for the church service, the paper with the words I'd written shook uncontrollably. This was as important as it gets. This was for Richard.

Sometimes he visits. You can feel him arrive at a clown class. Often, clown students who have never met or seen a picture of him have accurate dreams of him during a workshop.

Sometimes out of the blue I fly into a rage and find myself yelling things like: "Richard how dare you have gone at forty and left me to go through menopause alone!" or: "Some people shouldn't be allowed on this planet if they're gonna leave such a big hole when they go!"

Most of the time he is more a presence in my life than an absence now.

If I tried to say what I owe to him, I wouldn't know how. (I put a collective tribute to him in a clown article I happened to be writing when he died: "Toronto's Zanies". See Clown articles).

I love to see his clown children and grandchildren and great-grandchildren grow up and start to perform.

Richard was love. He was the patron saint of risk-takers.

He lived with a vigour rarely seen. (He once hugged Gabriel so lustily as to break his rib).

He was like the sun. Nor did he shun the night.

He was intensely alive, and he gave that great life-force to us.