Character Masks


After doing "Allan Gardens", based on the people in that Toronto park, the company and I went on to do "Street Signs", about people in public places in Toronto, and finally to do "Toronto: The City Show".

Act One consisted of characters in different sections of Toronto- bars, strip clubs, lunch counters and upscale restaurants, subways and streetcars,and actors went into the suburbs to interview and observe people. Using the Life Studies approach of coming to neutral, then internalizing a character-or doing a complete body mask of the person - the act was a reality-based portrait, in scenes and sequences, of the city.

Act Two made the metamorphosis into portraying the characters in mask. A 14-foot puppet of Metro chairman Paul Godfrey (by Puppetmongers Powell) auditioned the masked characters for entrance into his New City, and the whole second act climaxed in a dance and singing sequence played live by composer John Mills-Cockell on synthesizer,and the powerful final sequence brought the audience spontaneously to the stage to dance with the actors.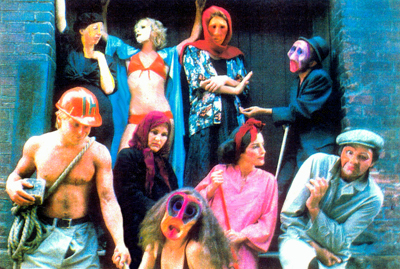 Some Toronto Archtypes as seen Passe Muraille actors
in "City the Toronto Show"