Early Influences and Methodology
After completing two years in the MFA Directing program at the University of Alberta - a training that gave me a solid classical base - I travelled to Europe to meet specific directors and companies doing the innovative work that I had heard was happening there. (In Theatre School I had read and was inspired by "The Empty Space" and "Towards a Poor Theatre"). I went specifically to meet with Peter Brook and Jerzy Grotowski. This was to be one of the turning points of my artistic life.
I arrived in London, England in the spring of 1971, and was told that Peter Brook and his company were travelling by caravan in Persia. I said "I just happen to be going to Persia. Can you give me their itinerary?", but was told that they could not be reached until their arrival in Persepolis, after the culmination of their journey some time hence. In the meantime, I had received a telegram from Jerzy Grotowski inviting me to a performance by his company in Wroclaw, Poland and decided to go there first, and arrive in Paris in time for Peter Brook's return. When passing through Denmark, I spent time with the Solvognen Theatre in Christiania, a grass-roots company whose daring political plays often tested tolerance of their Danish audience. (Once two hundred actors dressed up like Santa Claus and passed out candy for a month to children throughout the city; then occupied a recently closed factory. Watching television coverage of the event, children asked their bemused parents, "Mommy why are the policemen arresting Santa Claus?) In Berlin I crossed over the wall to see the Schiller Theatre's production of 'The Wild Duck.' Arriving in Poland I found the performance of "The Prince" tremendously inspiring although I sensed even then that Peter Brook's approach to theatre would resonate with me more deeply. On my way back to Paris I was deeply moved by a performance of "Iphigenia at Aulis" in the Theatre of Dionysus below the Acropolis in Greece, and in Spain spent an electrifying evening discussing with an underground theatre group the difficulties of performing under Franco's rule.

I made it back to Paris a day after Peter Brook had arrived. We spent the day together talking about theatre and the search he himself was making to find the roots for a New Theatre with his International Theatre Institute. "Shakespeare" he said "did not exist in a void, but was the apex of a triangle under which lay many other writers like Philip Marlowe and an entire Elizabethan history and culture; I am part of those laying the foundation upon which a new theatre can be built." I returned many times over the years to see the work and visit with him, in Paris at the Bouffes du Nord, and at the Brooklyn Academy of Music in New York. He and his work were to be a lifelong touchstone for me.

Over the course of several years in Paris I also saw the work of Le Theatre du Soleil and had passionate discussions with the actors about their performances, especially their Commedia del Arte work in the production 'L'Age d'Or.' Here I met and spoke with Jean-Louise Barrault, and also encountered the dynamic work of Maurice Bejart and his controversial and primal choreography.
| | | |
| --- | --- | --- |
| | | |
| Peter Brook | | Jerzy Grotowski |
The voice, movement and ensemble exercises which I later developed with my company were inspired by the work of Peter Brook, as was the emphasis on process and the use of a strongly ensemble approach to theatre. Grotowski , too, created in ensemble, but his approach to the work seemed to essentially differ from Brook's. With Grotowski it seemed one's energy went toward breaking through obstacles, whereas with Peter Brook the aim seemed to allow for a dropping off of anything extraneous in order for the actor to arrive at a state of pure presence. I later called this "coming to neutral", a state of receptive emptiness from which the actor can then respond to any impulse; this was long before I encountered the concept of Neutral Mask in the Lecoq clowning process. This approach has served me well as I developed as a teacher and a director over the years.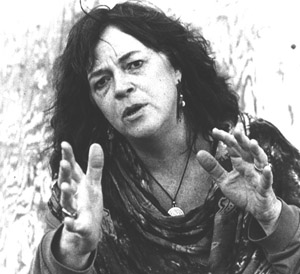 Michele George

I first saw the work of Michele George when she was performing over the course of ten years with Peter Brook's International Centre for Theatre Research, in Paris and in New York. I had never in my life seen such a powerful female performer. Later after she had moved to Toronto, I was privileged to be a participant in her extraordinary master classes in Voice which she taught. As well, her acting and directing work over the years have remained a constant inspiration to me.

On my return to Canada I worked with Irish Director James Flannery, and was introduced to a wealth of Irish playwrights and to his extraordinary staging of the plays of W.B. Yeats. I was also fortunate to work with Dr. Francis Hodge of the University of Texas for two consecutive summers in the Banff Theatre program and in the productions he directed there. In addition to exposing me to a great body of American playwriting, he taught me extraordinary discipline and a solid approach to directing. I also worked for a year under Jean Roberts as an Assistant Director at the National Arts Centre in Ottawa. (It was difficult to find work as a female director since there had been few precedents set for women directors at that time.) It was here that I met the charismatic director, performer and teacher Dennis Hayes. We found that we were both passionate about the work and writings of Antonin Artaud - a French theatre innovator and visionary (who had also been an inspiration to Peter Brook and Jerzy Grotowski). Hayes had explored movement and dance extensively in his theatre pieces. Each of us had been inspired as well by the ensemble voice and movement work in the productions of Joseph Chaikin and his Open Theatre Company. We collaborated on Hayes' dance-theatre piece 'Prophet' at the NAC and on my production of two plays by Fernando Arrabal, also a highly physicalized theatre performance culminating in Artaud's text "Address to the Dalai Lama".
| | | |
| --- | --- | --- |
| | | |
| Joseph Chaikin | | Dennis Hayes |
I arrived in Toronto to find myself swept into a wildly experimental and innovative theatre movement which had sprung from the creative chaos of Rochdale College and the coffee house scene of early Yorkville. Here poets, painters, musicians, directors, writers, actors and film makers fed off each other's work in the creative frenzy that characterized the late sixties. Directors started their own theatres. Martin Kinch at an old firehall founded Toronto Free Theatre, Ken Gass above Lonsdale Garage founded Factory Theatre, Bill Glassco, the Tarragon Theatre, Paul Thompson, Theatre Passe Muraille. (Toronto Workshop Productions had been started a few years earlier when George Luscombe returned from working with Joan Littlewood's company in England.) Although a very few playwrights like George Ryga had produced plays earlier than this they had worked in virtual isolation. (I was fortunate to collaborate some years later with George Ryga, and we envisioned together the creation of a company called "The Peoples Theatre of Canada.") There did not exist a body of English- speaking Canadian plays, and most performances were either of British origin (the Stratford and Shaw festivals) or American (the St. Lawrence Centre and Canada's Regional Theatres). Productions sprang up by new playwrights, collective creations were produced with no playwright at all and poets like Michael Ondaatje had their work ("The Man with Seven Toes", "The Collective Works of Billy the Kid") adapted to the stage.
After Martin Kinch gave me my first directing show (the collectively-created 'Allan Gardens'), at Toronto Free Theatre, Paul Thompson approached me to work at Theatre Passe-Muraille, where he had already been directing collective productions. Several of his classics including 'The Farm Show' and 'Them Donnellys', greatly challenged and inspired me. Among other plays, I mounted 'City-The Toronto Show' with a cast of 12 actors and live music by composer John Mills-Cockell. We researched the show over an entire summer and produced in the fall of 1975 at Theatre Passe-Muraille. Ken Gass, founder and Artistic Director of Factory Theatre Lab, was extraordinarily generous and supportive of my work. I directed several original plays there, among them: 'Where is the Voice Coming From?' adapted from the short stories of Rudy Wiebe, 'What the Clowns Thought About the War' (an interdisciplinary play about nuclear war), and 'Turning Thirty', a solo show I created and performed there which went on to play major Arts Centres across Canada and in New York to critical and popular acclaim.

Theatre Passe-Muraille and Factory Theatre were the two seminal theatres that gave me a base to develop as an innovative director and performer - and both theatres continue today to offer this invaluable opportunity to each new generation of theatre artists.

By keeping together a core group of actors I was able to build an ensemble company. We performed scripted work, collective creations, and adaptations, always augmenting the rehearsal process with physical, vocal, ensemble exercises that constantly expanded the actors' technique. Every rehearsal began with an intensive warm up and ensemble improvisation. The purpose of this was not only to create a state of flexibility in the actors, but also to give them an opportunity to slough off any previous state in which they had arrived, and be at home with and entirely present in their own bodies. The warm up was followed by ensemble exercises which enabled each actor to fully relate to and encompass the energies of every other actor present, as well as the space surrounding them. Over time this created an atmosphere of receptivity that enabled each actor to reach his/her peak ability and at the same time create the camaraderie and power which an ensemble group affords.
| | | |
| --- | --- | --- |
| | | |
| Richard Pochinko | | George Ryga |
By "coming from underneath", by threading exercises together nearly invisibly, the actors have the sense that they are discovering things by themselves. They could then easily individualize and have ownership of these discoveries. Later (after taking an intensive Lecoq-based clown workshop with master teacher Richard Pochinko), while performing my original solo show in major arts centres across the country and in New York, I found that this same approach could be taken toward an audience, and greatly enhance their experience of an evening. It gave them permission to bring their own sensibilities and life experience to the theatrical event, personalizing it and leaving them with a sense of participation and empowerment. I have always believed this social and humanizing effect to be the purpose of live theatre.
Voice, Body & Ensemble Exercises in Cheryl Cashman's Rehearsals



| | |
| --- | --- |
| | |
| Warm-up | Warm-up |
| | |
| Warm-up | Warm-up |
| | |
| Warm-up exercises and improvisions | Trust Exercises |
| | |
| Alexander Tecnhique | Alexander Tecnhique |
| | |
| Touching Sound | Choral Sound |
Top of Page