UPCOMING WORSHIP SERVICES
in-person worship STARTS AT 11 AM
Masks and vaccination are required; physical distancing practiced.
If you are not ready for in-person worship, ZOOM services occur at 9:30 am on Sundays, please contact the church office for details on connecting to these services:
outofthecold@golden.net or 519-434-9173
---
May 29 2022
Seventh Sunday of Easter
Worship leader is Mark richardson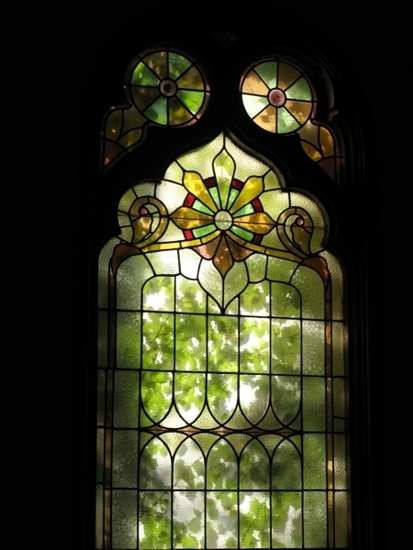 Sun coming in a Narthex stained glass window(photo courtesy of D. Cuppels)
Music for This Service
Prelude: This is God's Wondrous World (Terra Beata) by F. Sheppard (1915). Performed by Norman Abbott, piano.
Ministry of Music: They'll Know We Are Christians by Our Love (text from John 13)(music by P. Scholtes). Performed by James Traquair, tenor, and N. Abbott, piano.
Postlude: All For Jesus by J. Stainier (1887). Performed by N. Abbott, organ.

---
PREVIOUS Worship Services:
For access to audios for the more recent church services please click on:

---
---
ANNOUNCEMENTS:

Next Unified Board Meeting: WEDNESDAY JUNE 22 2022 at 7 pm via Zoom

---
NEED TO CONTACT THE CHURCH OFFICE?
Church office hours are on MONDAYS AND FRIDAYS 10 TO 12 AND 12:30 TO 2:30
If you wish to visit the church please let us know ahead of time:

Call 519-434-9173 or
Email us at outofthecold@golden.net