If you are not ready for in-person worship, ZOOM services are available, please contact the church office for details on connecting to these services:
outofthecold@golden.net or 519-434-9173

---
next worship service: JUNE 11 2023 at 11 am
SECOND SUNDAY AFTER PENTECOST
Service led by REV. WENDY NOBLE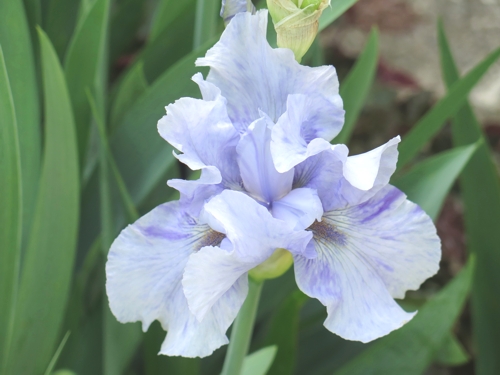 IRIS (Photo courtesy of D. Cuppels)
Ministry of Music Solo: My Lord Is With Me by F. Lehar (text by Norman
Abbott).

Offertory Solo: This Is My Father's World. Tradit. English. Text by M. T.
Babcock.
Soloist: James Traquair, tenor, accompanied by N. Abbott, piano.
---

PREVIOUS Worship Services:
For access to audios for some of the more recent church services please click on:
May 21 2023 Message: How Are We One?
May 7, 2023 Message: Our Hearts Beat As One
May 14 2023 Message: His Offspring. Guest speaker is Mark Richardson

---

COMING musical EVENTS:
Saturday, June 17 at 7:00 pm: Beal & London Singers: 'Sing Into Summer Celebration.' Classical to country, broadway to jazz.
---
NEED TO CONTACT THE CHURCH OFFICE?

Church office hours are:
MONDAYS 10 am - 12 pm and 12:30 - 2:30 pm

WEDNESDAYS 1 - 3 pm (by appointment only)

FRIDAYS 10 am - 12 pm and 12:30 - 3:30 pm
Or by appointment. If you wish to visit the church please let us know ahead of time:

Call 519-434-9173 or
Email us at outofthecold@golden.net

---
WANT TO DONATE TO OUR CHURCH?

Please Click on the Following Link: DONATE
---
notices:
Next meeting of the Unified Board: June 14 2023 at 7 pm (by Zoom).

---

USEFUL LINKS:

Information on church ministries, educational programs, congregations and the church calendar:

The United Church of Canada

News from the General Council of the United Church of Canada:

General Council

The new 44th Moderator:

Rev. Dr. Carmen Lansdowne

The official website of the Antler River Watershed Regional Council, the United Church of Canada

Antler River Watershed Regional Council

New International Version of the Bible:

http://www.devotions.net/bible/00bible.htm

Rowntree Memorial United Church:

Rowntree Memorial Church

A United Church of Canada e-newsletter




"It focuses on the justice work of the church. Published about twice a month, it shares worship and education resources, as well as news from church ministries, networks, and partners, including how they are taking action locally and globally." Subscription is free.
---
Last updated:Tuesday, June 06, 2023 05:18:51 PM