If you are not ready for in-person worship, ZOOM services are available, please contact the church office for details on connecting to these services:
outofthecold@golden.net or 519-434-9173

---
DECEMBER 3 2023 WORSHIP SERVICE
First Sunday in Advent
Communion
at 11am
Service led by Rev. Wendy Noble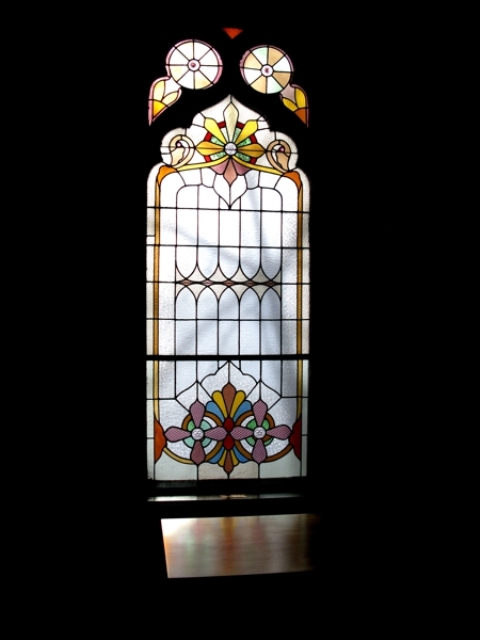 Narthex Window of the Church (Photo by D. Cuppels)

Music for this service:
Prelude: In the Bleak Mid-Winter by H. Darke.
Played by Norman Abbott on the piano.
Ministry of Music: Advent of Our King by S. Curry.
Sung by the church choir.
Offertory Solo: Comfort Ye My People (from The Messiah by G. F. Handel).
Sung by Choral Scholar Karen Hu, soprano, and accompanied
by N. Abbott, piano.
Postlude: Hark the Glad Sound by T. Jarman. Played by N. Abbott, organ.


---
PREVIOUS Worship Services:

For access to audios for some of the more recent church services please click on:

November 5 2023 Remembrance Sunday
Service led by Rev. Wendy Noble
october 22 2023 (Anniversary)
Message: God's Belief in Us; God Works Through Us
Guest speaker: Glen Pearson, London Food Bank
July 2 2023 Message: God's Special Agent.
Guest worship leader was Rev. Keith Rameshwar


---

NEED TO CONTACT THE CHURCH OFFICE?

Church office hours are:
MONDAYS 10 am - 12 pm and 12:30 - 2:30 pm

WEDNESDAYS 1 - 3 pm (by appointment only)

FRIDAYS 10 am - 12 pm and 12:30 - 3:30 pm
Or by appointment. If you wish to visit the church please let us know ahead of time:

Call 519-434-9173 or
Email us at outofthecold@golden.net

---
WANT TO DONATE TO OUR CHURCH?

Please Click on the following link: DONATE
---

COMING EVENTS:

Christmas RUMMAGE sale
DECEMBER 2 2023
9 am TO 12 noon
In Shambleau Hall
---
colspan="2">


notices:

● Next Unified Board Meeting: Monday, December 11, 2023, at 7 pm (Zoom)
---
USEFUL LINKS:

Information on church ministries, educational programs, congregations and the church calendar:

The United Church of Canada

News from the General Council of the United Church of Canada:

General Council

The new 44th Moderator:

Rev. Dr. Carmen Lansdowne

The official website of the Antler River Watershed Regional Council, the United Church of Canada

Antler River Watershed Regional Council

New International Version of the Bible:

http://www.devotions.net/bible/00bible.htm

Rowntree Memorial United Church:

Rowntree Memorial Church

A United Church of Canada e-newsletter




"It focuses on the justice work of the church. Published about twice a month, it shares worship and education resources, as well as news from church ministries, networks, and partners, including how they are taking action locally and globally." Subscription is free.
---
Last updated:Tuesday, November 28, 2023 08:32:51 PM