Home

Press Releases

Purebred Breeds

Genetics and Health

Picture Gallery

Members

Documents

Biosecurity

Certificates of
Registration

Links

Contact Us

Recipes

Site Map


<! *** PAGE CONTENT STARTS HERE *** >
Recipe of the Month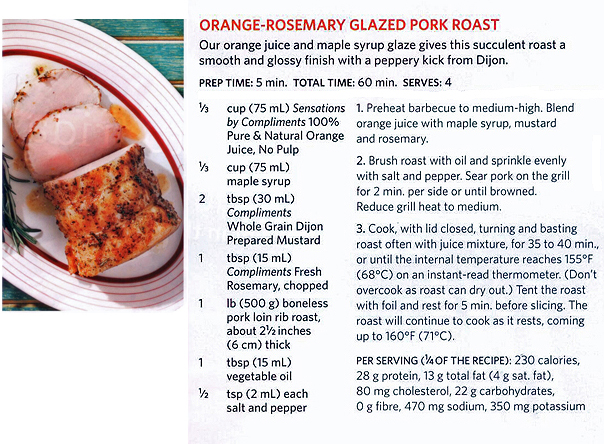 Pork chops with maple-caramelized onions
(courtesy of Agriculture and Agri-Food Canada)


4 pork chops (5 oz. / 150 g)
1 cup (250 mL) Spanish onion, finely chopped
1 tbsp (15 mL) oil
2 tbsp (30 mL) butter
1/2 cup (125 mL) white wine or cider
1/2 cup (125 mL) maple syrup
ground salt and pepper to taste

Method

In a saucepan, caramelize the onions in the oil and butter over medium heat. Deglaze with the wine or cider, and reduce by half. Add the syrup and season to taste. Continue cooking until mixture thickens. Grill the pork chops and serve garnished with the maple-caramelized onions.


Makes 4 servings


Nutritional Information per Serving: 303 Calories; 14 g fat; 8 g protein; 32 g carbohydrate

Food Safety Tip: Colour code your cutting boards - one for raw meat, poultry and seafood and the other board for washed produce and ready-to-eat foods. Replace cutting board or sand cutting boards when they become grooved and worn.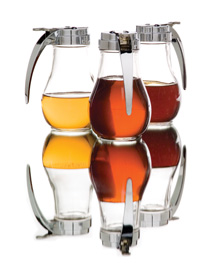 Maple Syrup


Canada produces about 85 per cent of the world's maple syrup. Marketing has evolved over the years, with a shift from traditional markets to more value-added ones such as those for blends with other products (cereals, yogurt, etc.).

There are more than 10,300 maple syrup producers in Canada, operating over 33,680,000 taps. They are found mostly in Quebec, with the rest in Ontario, New Brunswick, Nova Scotia and Prince Edward Island.

The main syrup-producing trees are sugar maples, red maples and silver maples. During the maple sugaring season, an average tree yields 35 L to 50 L of sap, which will produce between 1 L and 1.5 L of maple syrup. On average, 40 L of sap are required to make 1 L of syrup.



<! *** PAGE CONTENT ENDS HERE *** >