Home

Press Releases

Purebred Breeds

Genetics and Health

Picture Gallery

Members

Documents

Biosecurity

Certificates of
Registration

Links

Contact Us

Recipes

Site Map


<! *** PAGE CONTENT STARTS HERE *** >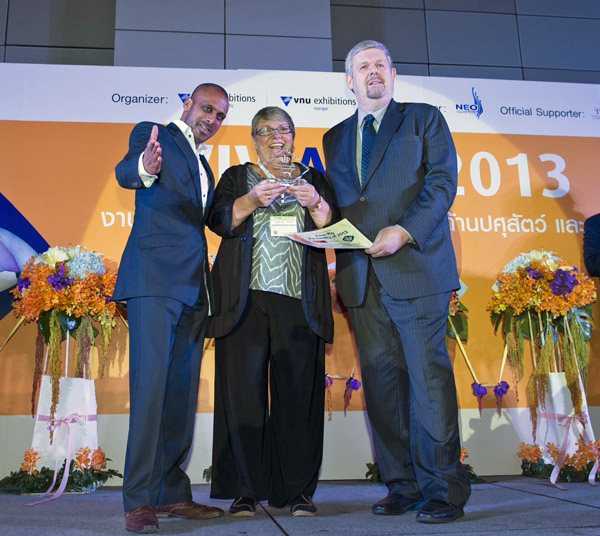 March 13th, 2013.
During the opening ceremony of VIV Asia, Rosemary Smart received the Asian Pig Personality of 2013 Certificate and Plaque. It was in "recognition of outstanding services to the Asian pig sector". It was awarded by VIV and International Pig Topics. Along with the award certificate and plaque, Rosemary also received a huge flower arrangement of several varieties of orchids. It was spectacular!

r>


Press Release
CSEA Funding
2010-05-14

CANADIAN SWINE EXPORTERS ASSOCIATION
17 PEMBERS PASS
WOODSTOCK, ONTARIO, N4S8Z5
519 421 0997
CSEA@ROGERS.COM


CANADIAN GOVERNMENT INVESTS
IN CANADIAN PUREBRED SWINE EXPORTS

WINNIPEG, Manitoba, May 14, 2010 - Agriculture Minister Gerry Ritz announced an investment by the Department's AgriMarketing Program to Canadian Swine Exporters Association to enhance Canada's competitiveness in global markets.

Rosemary Smart, Executive Director of Canadian Swine Exporters Association (CSEA), attended at the announcement in Winnipeg and stated that this one year funding will assist and support projects to increase export sales of purebred swine genetics through market development, brand building and industry to industry trade promotion. Members of CSEA export Purebred pigs around the world and to over 50 countries and will continue to find new markets for our genetics.

The CSEA has built on actions that have already been undertaken to help the Canadian industry succeed in international markets. "We have top quality products that come from our industry, and the funding assistance will help build the Canada brand throughout the world." said Rosemary Smart. "We are pleased that the government of Canada has confidence in our product and confidence in our team and supports us in this way. "

Press Release

CHINA RE-OPENS TO CANADIAN LIVE PIGS,
TRADE IN PUREBRED GENETICS CAN NOW RESUME
2010-04-15


April 15, 2010: Canadian Swine Exporters Association is pleased to announce that negotiations are finalized and trade in Purebred swine genetics can now resume. China halted importation last May, 2009 due to H1N1 concerns in China.

The Canadian swine genetics industry enjoys a well earned reputation for exceptional quality, reliability and value. The Chinese swine industry will import from Canada the best quality, healthy Purebred swine genetics from top herds in Canada.

Rosemary Smart, the Executive Director of the Canadian Swine Exporters Association is pleased the border has been re-opened - "It has been a strenuous twelve months for the Genetics Industry in Canada, we are delighted about the latest news and look forward to a profitable year for all Canadian producers and exporters."

It is anticipated that $30 million in live pig exports will transpire in the coming year. Canada continues to be a leader in the global marketplace. The official agreements and the Veterinarian Health Certificate between CFIA and AQSIQ for exporting to China is now official as of April 15, 2010.







<! *** PAGE CONTENT ENDS HERE *** >