HISTORY
OF
DUNDAS STREET CENTRE UNITED CHURCH
---
We began in 1846 as a group of British and American Methodists meeting for prayer and worship in a small cottage on Adelaide Street near Bathurst. In 1856, a house was rented for worship on Adelaide Street. Plans to build a church were stalled until new hope in the form of moral and financial support from Methodists at the North Street Church (now Metropolitan United Church) was provided. In 1860, a frame church was built on the northeast corner of Adelaide and King Streets to accommodate a congregation of 300 people. Adelaide Methodist Church, as it was called, was sold later to the Anglicans and then to the Baptists. It was moved to the south side of King Street and enlarged to become what is now Adelaide Street Baptist Church.
Wooded property at the corner of Dundas and Maitland Streets was purchased in 1869 and the cornerstone for a new yellow-brick church was laid. On April 3, 1870, the Gothic-style Dundas Street Wesleyan Methodist Church was dedicated. In 1876, it was named Dundas Street Centre Methodist Church to distinguish it from Dundas Street East Methodist Church (which later became Centennial United Church) built in 1874 further east on Dundas Street.
Dundas Street Centre Methodist Church burned to the ground on February 13, 1895 but was quickly replaced with the present red-brick, Romanesque-style building. The Sunday School Auditorium was finished first and dedicated on October 24, 1895; the Sanctuary was dedicated on May 24, 1896. In 1925, the church joined the union of Methodists, some Presbyterians and Congregationalists that became the the United Church of Canada. From then on, we were known as the Dundas St. Centre United Church.
The present building is a designated historic site in London. It is recognized for its unique sanctuary with a semicircular freestanding balcony and its beautiful Victorian stained glass windows and dome. Our pipe organ, which was installed in 1930 to replace one destroyed by fire, is a three-manual Casavant (for more information on Casavant organs go to: www.casavant.ca). It has 39 stops, 53 ranks and 3091 pipes. Some pipes are sixteen feet long while others are the size of a pencil! Its console has three keyboards. The keys are rosewood, not the usual metal keys. Furthermore, it is the only organ in this region with a Wood Harp or Marimba.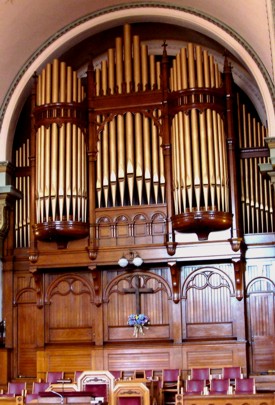 Dundas St. Centre pipe organ,
photo courtesy of Diane Cuppels
Many renovations have occurred over the years. The Sanctuary was redecorated in the summer of 1949. The Sunday School auditorium was remodeled in 1958. The sod was turned for a new Christian Education Building in April 1962 and on November 4, 1962, Shambleau Hall was dedicated. The Memorial Chapel was dedicated in January, 1963. Throughout these many changes we have retained a strong sense of church family, togetherness and a busy schedule of worship, Bible study and community service. This is a caring and compassionate congregation, one that welcomes you and your talents if you are seeking an active church home or refuge from the hurting world.